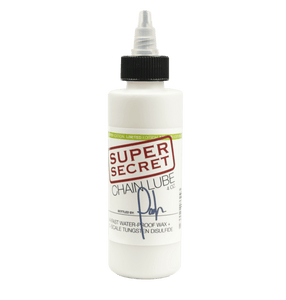 SILCA Super Secret Chain lube started out as a project to develop the fastest Hot-Melt wax lubricant available more than a year ago.  Josh has been recommending Hot Melt Wax and helping Pro cyclists and triathletes wax chains for years and wanted to bring his lubricant formula to our customers, the challenge was how to consistently melt, dip and agitate the chain across different crockpot designs and temperatures.  The project took a fascinating turn from the world of IndyCar when josh was introduced to a group that had developed a technology to put micro-scale wax powders into a solution that was quick drying and forms a coating that is indiscernible from hot melt dipping. The combination of air-drying liquid wax and Tungsten Disulfide would quickly prove to beat all currently available hot melt waxes in friction testing while being much faster and easier to apply.
4 oz. and 8 oz. bottles with the precision applicator tip for dripping on your chain or 16 oz. jar with 12 oz. lube (leaving room for your chain) for dipping the chain
The chain should be VERY clean and dry before applying, see the video below
Apply according to the video and let dry for AT LEAST 12 Hours for optimal results, 24 hours if applied in cool or humid weather conditions!  We recommend applying the lube AFTER your ride so it's ready for next time!  See the Chart Below for more Info
NOTE: Over time the WS2 will begin to settle to the bottom of the bottle, shake well before using.
Silca secret wax
Keeps my chains running clean and smooth!
Initial review of Silca Secret wax drip lube.
I read a lot about this product as I am keen to have a smooth & long lasting drivetrain on my bikes. I am using the Silca how wax pellets, with good success, but was looking for the drip lube to use as a supplement in between hot wax treatments.
This is an easy product to use, it works very well, & leaves the drivetrain nice & clean, it doesn't attract dirt or dust. I've used it now on my gravel bike & on my mtn bike with many dusty km's ridden lately & it works great.
Make sure to follow the instructions well, & I would suggest using a hotwax treatment before using this product as they pair well together.