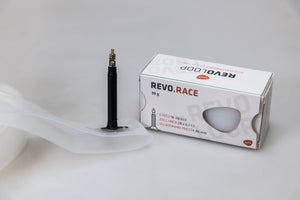 Ottalaus has cut ties with Revoloop and we are blowing out all remaining inventory below cost. There will be no warranty offered through Ottalaus on these, you would need to deal directly with Revoloop themselves.
2 tubes will be available Mid to late 2023.
The REVOLOOP.race is the lightweight hose for the agile, demanding racer. The racing bike tube weighs just 39 grams and, thanks to the specific material used for the thermoplastic polyurethane, is at the same time significantly more durable than a conventional butyl tube. The low weight reduces the rotating mass on the bike and makes the racer more agile in sprints and on the track.

The valve made of particularly impact-resistant and break-proof thermoplastic is ahead of its time. Minimum weight is paired with maximum performance. A specially designed valve base prevents damage to the hose from sharp edges on the valve bore.
ETRTO  18-28 / 622                inch  28 x 0.7-1.1                Sclaverand / Presta  40 / 60
Please note: Please fill REVOLOOPs outside of the jacket with a maximum of 0.5 bar!
Light and fast
I just feel like these tubes are faster than regular old tubes. I can't tell the difference between running tubeless and running these revoloops.
Thanks guys.