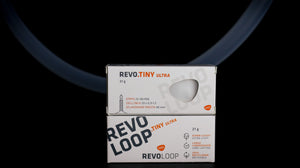 Ottalaus has cut ties with Revoloop and we are blowing out all remaining inventory below cost. There will be no warranty offered through Ottalaus on these, you would need to deal directly with Revoloop themselves.
These are the new and improved 7-layer tubes. The REVOLOOP.tiny ultra increases the performance of all 20-inch tires. Whether a folding bike, recumbent bike, or bike for the kids, the tiny ultra ensures maximum driving dynamics and the highest level of comfort on the road. Not only the low weight of only 21 grams but also the minimized rolling resistance compared to classic products inspire when driving.
The valve made of particularly impact and break-resistant thermoplastic material is ahead of its time. Minimum weight paired with maximum performance. A specially designed valve base prevents damage to the hose from sharp edges on the valve bore.
                                                                    ETRTO   25-38 / 406               inch  20 x 0.9-1.5                Presta  40