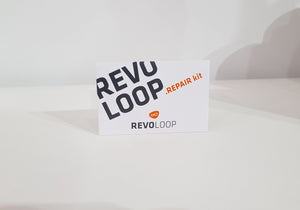 Breakdown on the road or trail? No problem! The REVOLOOP Repair kit helps you to get back on the road quickly. The unique self-adhesive patches seal every hole in a REVOLOOP bicycle tube effortlessly. The ideal companion for every adventure, no matter if road or terrain.
Omg😡
I never received my item then they said they were sending another one out but I have yet to receive it!
Once non trackable packages leave our hands and are passed off to the courier there is no way for us to track an item or even know if the customer received the item. We shipped a second package to you at no charge on the 7th working day as the timeline was pushing the limit for delivery but was still in the scope of 6-10 working days into the USA thru general mail. 6-10 business days is the expected time the envelope should take. This excludes weekends and holidays so in reality the delivery would take up to 15 days total. I'm not sure how we deserve a 1 star review for the courier not doing their job, The first package was shipped from Canada on May 14, and the next package was shipped on May 24th. We had a long weekend in between these and the USA had a holiday today which will delay the deliveries as well. I will bet both packages arrive this week with the first one arriving tomorrow. We have gone above and beyond to resolve this issue as we always do . I will leave this review up so others can see how we do things here at Ottalaus. We take care of our customers.
Jay
Gravel tube
So ligth, so small to cary. The closest you'll get to tubeless with having to deal with sealant
Very innovative and simple!
What a great small, simple, and well thought out kit to have along for the ride. I have been very satisfied with the revoloop tubes and I have had no punctures but this kit looks like it will do the trick perfectly if/when the time comes.
Revoloop patch kit
extreme pleasure to deal with. I didn't even purchase the Revoloop tubes from Ottalaws, and they were very helpful to send me a repair kit for no cost.
However, i've tried numerous time to contact the store (Ontario) i bought the tubes from via phone and email without any luck, even left numerous phone messages without any callbacks and they don't answer their phone. This is disappointing considering they are a real store that i've been to in person once.
Simply the lightest and most effective repair kit out there
The longest part of patching a revoloop tube is waiting for the isopropyl alcohol to dry. Then it is a little finicky peeling the patch from its packing, but once you get it, you are 5 seconds to done. I run a card or rounded object over the patch to really seal it down. Ordering more but want to add more stuff to order to justify shipping cost to Toronto.