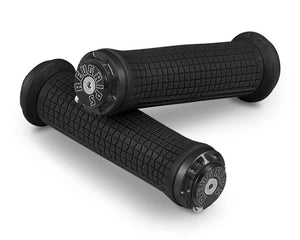 The Race Series Shock Absorbing Grip System is simply a "Bare-Bones" version of our Pro Series System at a more affordable price.  We've preserved the performance but eliminated the clamp lighting process, color options, tuning options, and installation tools.  Available in 5 sizes.
These grips are equipped with softer Suspension Insert Rings that put you in the popular Medium-Soft setting without the use of tuning washers (which are available separately). 
All parts are upgradeable and interchangeable between Race and Pro Series so you can add colored grips, lightened clamps, or adjustable feel at any time.
Everything listed below is included in the Race Series box. 
- (2) Grip Sleeves    - (4) Black Anodized Aluminum Clamps    - (4) Suspension Insert Rings - (2) Aluminum Bar End Assemblies    - (5) Clamp Screws