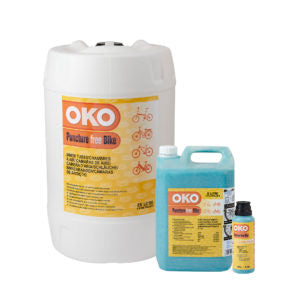 PUNCTURE FREE
- Seals multiple punctures, harmless to tires and rims.
- Seals the moment it happens; Seals thread area holes up to 4mm.
- 250ml.
- Quantity needed for sizes:
~ 16"-18": 50ml.
~ 20"-24": 80ml.
~ 26" & 650B: 100ml.
~ 700C: 100ml.
~ 29": 120ml.
OKO Puncture Free Bike is a water-based liquid that is able to work on both tubed and full UST tubeless tyres.
It gives peace of mind and lasting security for the tyre's life, with a dose of 60-100ml per tyre in mainstream bikes, depending on size.
An all-purpose product for commuting, touring (and perfect for peace of mind on your e-bike).
250 ml bottle deals with one large bike with some to spare: up to 20% less weight than any recognised competitor. It's a really economical way of ensuring peace of mind, for a fraction of the cost of replacing just one tyre.
Simple fitting, using the valve core remover and Schrader valve-sized filling tube supplied in every bottle cap: or use an OKO Tyre Sealant Injector for easy, accurate measuring.
NEW 5 Litre can (including a 150ml Injector for easy dosing) for small workshop use.
25 litre drum is ideal for retailer and team service workshops: the NEW heavy-duty all-alloy drum pump is a one-time purchase and can be rinsed out again and again for repeated use in filling tyres rapidly. It uses the unique OKO Bike drum pump with adjustable dosage, plus it has Schrader and Presta screw fittings.
Benefits
• Not latex-based
• Lasts the life of the tyre
• Combats larger punctures: contains aramid fibres
• Seals multiple holes
• Contains corrosion inhibitors
• Water-soluble
• Non Hazardous
Characteristics
Non Corrosive: Non Flammable: Non Hazardous (not excluded from air shipments unlike some ammonia-containing products). Washes out of the tyre if required.
NO ADVERSE EFFECTS UPON TYRES OR RIMS (contains anti-corrosion agents).
WORKS WITH INNER TUBES and FULL UST TUBELESS WHEELS/TYRES, with Schrader or removable-type Presta valves.
(For serious MTB use, we recommend NEW OKO X-Treme Dirt Bike)
(For 'Tubeless Ready' tyres, use a rim strip and OKO Magic Milk™, which is the lightest and best sealant to seal the bead/rim gaps and the porous sidewalls).
Colour: Blue. Viscous. Low Odour.
QUANTITY REQUIRED per tyre:
• Up to 18" 50ml
• 20" BMX 80ml
• 22-24" Junior MTB 80ml
• 26" MTB 100ml
• 700C 80-100ml
• 29″ MTB 120-140ml
For maximum accuracy, for easier use with removable Presta valves, and for a host of workshop uses, use the OKO Tyre Sealant Injector.
OKO Puncture Free Tariff Number: HS 3824 99 96
OKO Pressure Application Pump Tariff Number: HS 8413 20 00 90