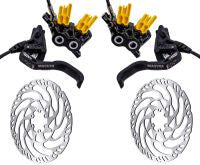 Magura
 MT5 Disc Brake Set
Features - Magura MT5 PRO Special Edition |

 

1-finger HC brake lever |

 

STORM HC 203mm / 180mm
Radial Design - The radial encoder design reduces friction and allows small/large gear ratios.

 

This reduces transmission losses - the brake becomes more sensitive and controllable.

The 4-piston brake caliper, forged in one piece, has an exceptionally high level of rigidity.

Ergonomic performance - The 1-finger HC lever offers comfortable ergonomics and a hard pressure point for a wide variety of hands

Particularly carefree - Due to an increased piston retraction, the MT5 is carefree in continuous use and quickly mounted without grinding compared to the MT7.

MT5 PRO special edition with 1-finger HC brake levers and STORM HC 6-hole brake discs 203 mm / 180 mm (2 mm brake disc thickness)

Compared to individual purchases, customers save 15% with the set!
product properties
Area of ​​use:

 

Gravity, Downhill, Enduro, Trail, All Mountain, eMTB, eMobility, Dirt Jump

Principle:

 

Fully hydraulic four-piston fixed caliper

Braking system:

 

open, with reservoir

Brake Caliper Mount:

 

Postmount

Lining adjustment:

 

Automatic

Postmount caliper mount (PM):

 

Yes, direct mount

Brake medium:

 

MAGURA Royal Blood mineral oil

Brake line:

 

MAGURA Disc Tube can be shortened easily

Brake line connection pliers:

 

RHR - Rotateable house routing (rotatable line connection)

Pads:

 

Organic 9.1 Performance (4 pistons two pads) 8.1 Performance (4 pistons four pads)

Reach adjust:

 

Yes (with Allen key SW3)

OPD (one-piece caliper):

 

Yes

BAT (individual pressure point adjustment):

 

No

EBT (Easy Bleed Technology):

 

Yes

Two-piece brake lever clamp:

 

Yes

Flip-flop brake handle:

 

Yes

magnetiXchange:

 

Yes

Feel-Safe Ergonomics:

 

Yes

Cable lengths:

 

2200mm each (can be shortened)
material
Brake lever and caliper:

 

Carbotecture® (brake master), forged aluminum (caliper)

Brake Levers:

 

Hollow Aluminum

Fixing screws:

 

steel
Color
Weight
approx. per brake

approx. 173g brake disc 203mm

Approx. 140g brake disc 180mm
---
scope of delivery
1 x MT5 PRO Carbotecture® disc brake set

1 x Storm HC 203mm brake disc incl. 6 T25 screws

1 x Storm HC 180mm brake disc incl. 6 T25 screws

2 x brake lines, each 2200mm long

2 x brake pads

4 * Fixing Screw

2 x insert pins

2 x Olive

2 x transport lock

The brakes are ready for assembly, filled and bled!
We also stock brake adaptors and Magura bleed kits as well.