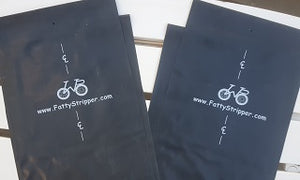 2 FattyStripper RimStrips for 26" rims up to 105mm wide, 27" rims up to 90mm wide, and 29" rims up to 75mm wide. Weight depends upon the width needed. Each unmounted, untrimmed rimstrip weighs ~49g. After mounting and trimming on a 90mm wide rim, the rimstrip weighed ~38g.
Email us at Ottalausinc@gmail.com for $3 flat rate shipping on Fatty Stripper products only.
Worked well!
Tires setup tubeless first try with these. Used v-tires snowshoes and oem 90mm rims. Way easier than struggling with tape!
A solution that works!!
Turning my Mulefut80 fatbike wheels tubeless was impossible, it seems to work but at the end in rides sealant was linking by the rims side. Dismentle and redone the setup many times without success. Then tried the Revoloop tubes... what a crap (sorry but it is true and have to be said). Then tried the Fatty Stippers.. just wow!! All the issues just gone :-)
Awesome
Super easy to use. I would recommend the fattystripper to anyone. Jason is super helpful. Really good guy. I would buy more from him for sure. Again. Really helpful. I