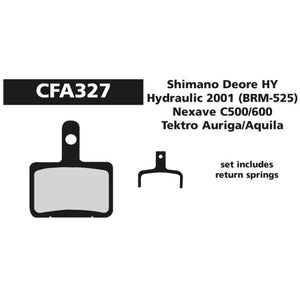 ALHONGA
HJ-OD04
HJ-OD05
HJ-MD11
HJ-Latoo
BENGAL
Ares 5
Ares Pro
Helix 7B
CLARKS
S2
GIANT
Root
Root 2
GUSSET
Chute
QUAD
QHD-1 Sting
QHD-1.2 Rapide
SHIMANO
BR-M315 T
BR-M355 T
BR-M365 T
BR-M375 T
BR-M395 T
BR-M415 T
BR-M416 T
BR-M416A T
BR-M445 T
BR-M446 T
BR-M447 T
BR-M465 T
BR-M475 T
BR-M485 T
BR-M486 T
BR-M495 T
BR-C501 Nexave T
BR-M515 Deore T
BR-M515 La Deore T
BR-M525 Deore T
BR-M575
BR-C601 Nexave T
BR-T615 Deore T
BR-T675 Deore LX T
BR-TX805 Tourney TX T
BR-M3050 Acera T
BR-M4050 Alivio T
BR-U5000 Metrea T
BR-M6000 Deore T
TEKTRO
Auriga Pro
HD-C300 Mota
HD-E350 (E-Bike)
HD-E500 Auriga
E-Comp (E-Bike)
HD-E520 Auriga
E-Sub (E-Bike)
HD-E525 Auriga
E-Twin (E-Bike)
HD-E530 Auriga
E-Tune (E-Bike)
HD-E715 Dorado (E-Bike)
HD-M282 Junior
HD-M285
HD-M286
HD-M290 Auriga
HD-M291 Auriga
HD-M330 HDc 330
HD-M500 Aquila
HD-M500 Gemini
HD-M501 Gemini
HD-M510 Gemini
HD-M520 Gemini Sl
HD-M521 Gemini Sl
HD-M532 Draco 2
HD-M725 Orion
HD-M730 Orion
HD-M735 Orion 4+2P
2 Piston Rear
HD-M740 Orion Sl
HD-T285
HD-T290 Vela
HD-T520 Auriga Sub
HD-T525 Auriga Twin
HD-T530 Auriga Tune
HD-T710 Volans
MD-C400 Mira
MD-C510
MD-M280
MD-M300 Aries
MD-U510
TRP
HY/RD
Hylex
Hylex RS
Hywire
Parabox
Parabox R
Slate X2
Spyke
Spyre
Spyre C
Spyre SLC
Disc brakes on bicycles are now almost a must for better braking and compared to the old rim brakes made of rubber, disc brakes are a quantum leap forward.
They are quieter than rim brakes, stop faster, and handle heat MANY TIMES better than rubber rim brakes which will literally burn up on a downhill race.
EBC makes three compounds for bicycle disc brake systems and also a variety of high-quality heat-treated stainless steel brake rotor oversize kits for bicycles.
You can buy EBC bicycle brakes from numerous dealers but we also have good online sellers, see the where to buy section of our website for suppliers.
Download PDF of Bicycle Pad Fitments
EBC Brake Disc Brake Pads
For cross country riding this is your best choice and is a British-made organic pad compound that will not damage your discs. The pads have a medium lifetime and most types are supplied with slightly beefed up retraction springs to prevent pad drag. For downhill racing or longer life in wet and mud see either the RED or GOLD grades.
Designed for X-country riding

Softer pad compound for better stopping

Can be used on non-hardened or hardened discs

This is a RESIN pad
For downhill use, the RED grade has a higher heat threshold but has the added benefit of not overheating the brakes with excessive heat transfer which would cause softening of your brake lines. Lifetime must be evaluated, these pads are designed for a few descents only, check wear after every ride to avoid running out of brakes. Supplied with heavy-duty retraction springs in spring based systems.
High friction pad for downhill riding

Handles more heat under heavy braking

Minimum heat transfer to hydraulics

Can be used on non-hardened or hardened discs

This is a RESIN pad
Gold Compound Pads
EBC Brake Disc Pads - Sintered (Gold)
EBC replacement disc pads in the green compound. Models available to fit most current brakes.
It is commonly accepted that sintered pads last several times longer than organic pads. These comments still ring true in the MTB Brake pad market.
Sintered pads offer higher friction rates than anything out there. EBC sintered gold grade MTB pads will last longer and brake stronger than anything you can buy.
EBC Brake Disc Brake Pads CFA327